Couple Celebrates 65 years of marriage
By Sheila E.M.Parry
A congratulatory telegram was received from H.M. The Queen for the 'Blue Sapphire' Wedding Anniversary (65 years), of a well known couple from Llanvetherine, Mr. and Mrs.Josef Sobik. The couple were delighted with this Royal honour.
This story starts as far back as 1946 when a handsome German soldier of WWll , Josef Sobik, 19 years old, arrived on British soil as a Prisoner of War. The young Josef was seriously wounded twice, as the horrors of war raged.
The first time he was wounded a bullet passed straight through his neck. The second time a bullet passed through his back and body closely missing vital internal organs. Josef was in Russia at the time. Here he was hospitalised and went through life saving surgery. He then became a Prisoner of War and was transfered to Belgium.
After arriving in Britain, the prisoners were billeted to a POW camp in Llanvihangel Crucorney. They were issued with prison uniform, trousers, battledress jackets and caps, bearing diamond shaped inserts so they could be easily recognised. They were given a small amount of 'celluloid' coins, which could only be spent on camp premises.
The prisoners were sent out to work on local farms. After time spent on various farms, Josef eventually came to work at Penrose Farm, Llangattock Lingoed, the home of my grandfather, Tom Davies and his son and daughter-in-law Eddie and Mabel Davies, my parents.
I was just 8 years old at the time and my brother Warren was 10, when Josef came to join our family.
'Joining our family', became a permanent situation and has lasted throughout the intervening years, right up to this present time.
During his time on the farm, working with my Dad, he learnt many agricultural skills to perfection….hedging and ditching was a skill I remember my Dad teaching him, until one day, in my Dad's own words, "he can do that job better than me now!"
Josef later became a British citizen and for many years, did not return to his homeland. A brave German soldier, who fought for his country, whom we love and are so proud of today.
On March 30th 1955, Josef married a school friend of mine, Janet Lennox from Great Pool Hall Farm, Llangattock Lingoed.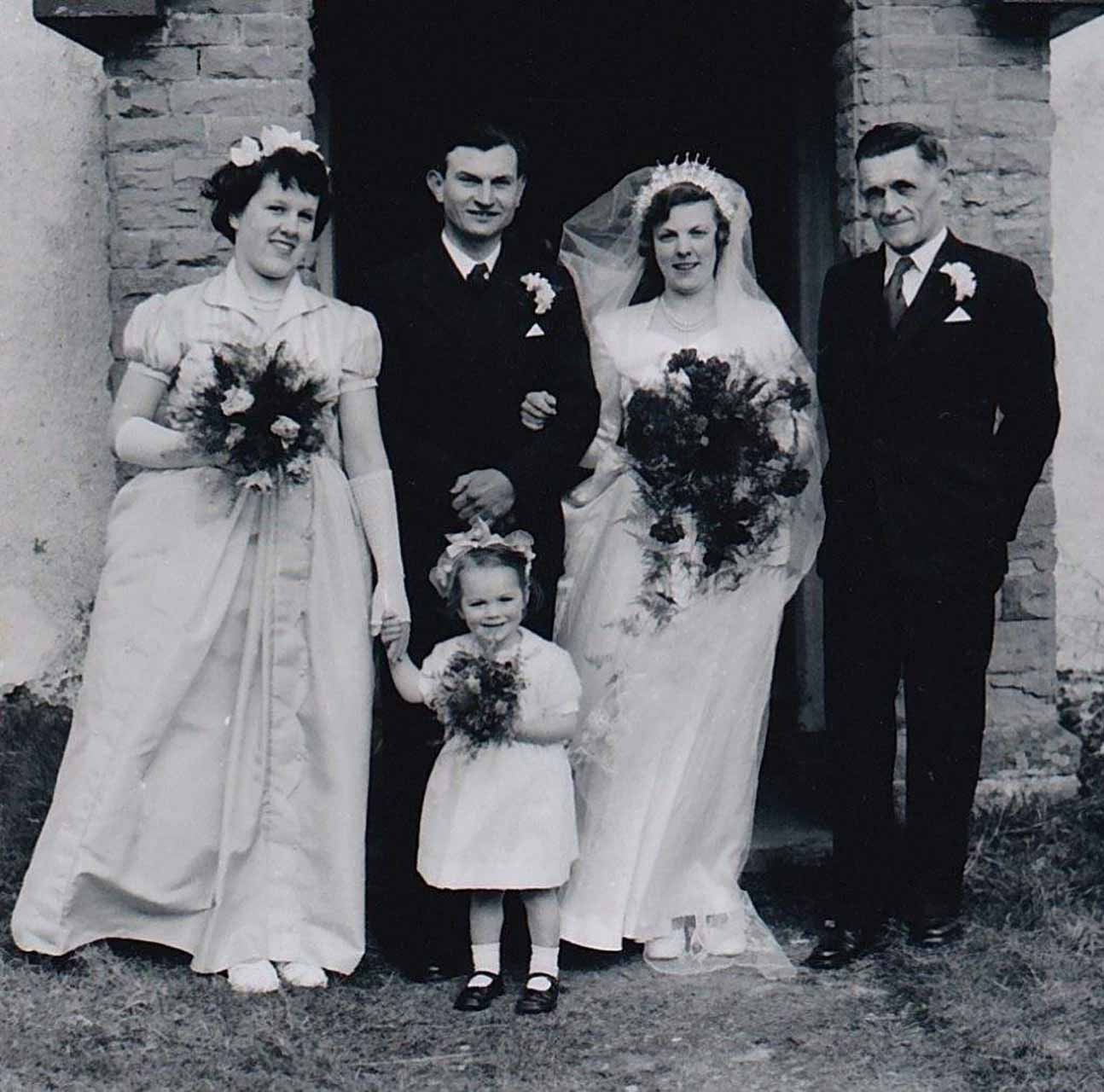 The wedding took place at Cwmerra Baptist Chapel, Llanvetherine, and I was Janet's bridesmaid, with Janet's little niece Janet Davies, as flower girl. My Dad, Eddie was Josef's Best Man. A country farmhouse reception was held at Great Pool Hall, the home of the bride's parents, Mr. and Mrs. W. Lennox.
When the happy couple were courting, I went most places with them….like a kid sister!
My Mum sadly died in 1952 and Josef took on the role of an older brother, a role he still practices to this today! He still calls me 'Sis' and I still call him 'Bruv'!
Cwmerra Chapel, Llanvetherine, has played a very important role in the lives of Josef and Janet. Both of them are long standing members and carer's of the Chapel and its yard. Josef has played the organ for many Sunday services. He has regularly mowed the grass and kept the yard tidy, while Janet worked inside, keeping the little Chapel 'spic and span'.
Josef eventually went on to start up his own business as a General Builder and became a Master of his trade.
When the couple's first child, Isabel Jane was born, I well remember walking across the fields from Penrose to Llanvetherine, to visit my first 'little niece'. I couldn't take my eyes off her, and was thrilled to hold her for the very first time.
Isabel was later joined by sister Brenda Sheila, (my namesake), and later by brother Nigel Robert.
Josef and Janet, today have the love and care of a large family of 25 members, spanning 4 generations. They are very proud of all of them, and especially like watching the little ones at play.
A big disappointment that the planned family celebration, was not able to be held, due to the Global pandemic of Covid-19.
So many wonderful and amusing lifetime stories, waiting to be exchanged amongst family and friends, will have to be postponed until another day.

I want all of you out there, who know this special couple, to join with their family and mine, in wishing them a very happy 'Blue Sapphire' Wedding Anniversary.
I wonder if Josef is now the only German prisoner of World War II here in Monmouthshire, possibly Wales or indeed in Great Britain?