It's Shrove Tuesday marking the day before the beginning of Lent, which for many of us is usually celebrated with a big pile of pancakes.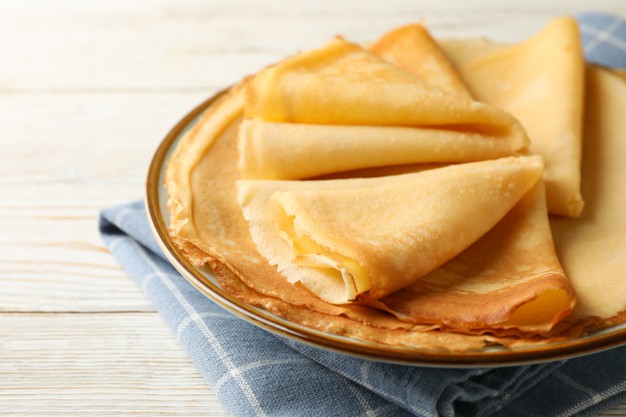 Pancake Day is the day before Ash Wednesday and begins the period of Lent leading up to Easter. Shrove Tuesday moves around every year with the calendar and is worked out as 47 days before Easter Sunday.
Shrove Tuesday is treated slightly differntly to the UK, around the World. Germany and the United States, have far bigger celebration and recognise the day with a Mardi Gras. Mardi Gras is famous for its opulent parades, with perhaps the most famous American ones being held in New Orleans.
How do you like you pancakes?
Easy Pancake receipe:
255g Plain flour
1 pinch salt
2 large large eggs (fresh)
475ml milk
2 teaspoons butter
For Cooking:
Sieve the flour into a large baking bowl, and add the salt.
Make a well in the center of the flour and add the eggs.
Beat well until you obtain a smooth and lump-free mixture. It will be sticky.
Add half the milk and melted butter and beat well. Add the remaining milk and stir until you have a smooth batter. Leave the batter to rest for 15 minutes.
Lightly grease a pancake pan or frying pan with a little bit of melted butter. Heat until very hot, being careful not to burn the butter. Add a ladleful of batter and try to evenly and thinly coat the base of the pan. Cook until set and lightly golden.
With the help of a spatula flip the pancake to the other side and cook for approximately 30 seconds.
Tip the pancake from the pan onto a plate. Cover the plate with a tea cloth to keep warm. Continue cooking the pancakes until all the batter is used up.
Pancakes are traditionally eaten sprinkled with sugar and a squeeze of lemon.
Other Content, you may like: